Dreamfall Chapters: A Romance
March 11, 2013 in Articles, Dreamfall Chapters, Kickstarter, The Games, Thirteen Chapters articles
February 8th, 2013 – The Dreamfall Chapters Kickstarter campaign launches. And boy, does it get a lot of attention. People have had their eyes on the sequel to Dreamfall for quite some time now. Especially since its official announcement on November 1st.
On the first day of the Kickstarter, the attraction is clearly present. The fans don't beat around the bush. We pledge around $350,000 (more than a third of the original goal of $850,000). Oh yes, there's definitely chemistry present…
Teasing Dreamfall Chapters
Along with the launch of the Kickstarter page comes the Kickstarter video. It begins its smooth seduction by remembering old memories; playing familiar music and whispering things to us like "señorita" and "you're unlike anyone I've ever met". Then it moves on to a vision of a gorgeous and familiar face looking up at a sky full of birds. The video makes us feel safe an comfortable. And we're enjoying it immensely.
New music starts playing. It sounds fresh and hopeful. It makes promises without even uttering a word. And we're loving it…
Great promises continue to be made throughout the video. We hear everything we want to hear. We'll revisit old places and experience new ones along the way, as we travel the worlds together. The team at Red Thread Games is extremely excited about this prospect. And so are we. By The Balance, are we excited. We all really want to make this "more than just a beautiful dream"…
The Talk
Not long after that first night, Red Thread Games founder Ragnar Tørnquist decides to open up. "Ask Me Anything", he says on Reddit. We get to know him and Dreamfall Chapters even better. This is going somewhere…
Keeping in touch
The week after that is full of great little surprises. We get a better understanding of what to expect and what's expected of us. We also get a peek at Chapter's beauty and read about one of its lovely voices. We're really starting to see ourselves play this game in the future.
Giving and receiving
It's February 15th and we've been giving Dreamfall Chapters our full attention by consistently pleasur… uhm… pledging to the Kickstarter. We're eight days in and we've already pledged about 90% of the original goal. Does this make us seem clingy and too excited? Maybe it does, but we don't care. It makes us feel good.
Besides, it's not that we don't receive any attention ourselves. Red Thread posts a new video, showing us a little bit more of their game and how we'll be able to play with it. Our fingers start to tingle. We almost can't wait to use them and play this thing…
Also, the subject of stretch goals is brought up, the first of which has to do with other platforms aside from the PC. We're promised that if we reach $900,000 we could play Dreamfall Chapters on Mac and Linux too. In other words, we could almost play it every which way we'd like to. This flexibility makes the game even more attractive…
Cuteness and appreciation
Along with the announcement of the Mac and Linux stretch goal, a familiar cutesy Watilla named Wonkers comes back into the picture. He even becomes a tier reward in the form of a Wonkers USB stick! "Cuteness overload" is a good term to describe these events.
Coincidence or not, after Wonkers' reintroduction the daily pledges go up quite a bit until the original goal of $850,000 is finally reached on February 16th. A shiver of joy travels across continents as fans and developers alike are screaming and cheering! Ragnar Tørnquist promises that the team will "keep bringing it", because "that's how [they] roll". Our hearts are aflutter. It's been quite a ride, but it isn't over yet!
It's the inside that counts
In the week that follows, we're introduced to a lot more content. We get to know the world of Arcadia and its inhabitants a little more, we explore Stark and one of its dark and dirty places, and we also learn more about Red Thread's plans for the future after we've gently stretched its funding to $950,000.
Friday the 22nd of February marks the day that the Kickstarter reaches 1 million dollars. This is also the day we spend a great number of hours with the team while they play Dreamfall on TwitchTV from start to finish. We get to know their characteristics and their souls – and those of their future game – a whole lot better. They express their feelings, we express ours… There's #Crowmance in the air. It's a lovely experience that, at least for those 10 hours, unites us all.
T-shirts and exposure
More days follow as we get treated to more cuteness and we're shown some cute outfits. That's right; we're already picking out outfits for our lovely game!
Dreamfall Chapters is brought to Steam Greenlight and its first cinematic trailer is released. At first exclusively on IGN, and then spread all across the web. Dreamfall Chapters has been laid bare for all of us to see and hear. But its mystery remains intact, and its soul shines through our screens. It's a true beauty to behold, and we can't wait to get our hands on it…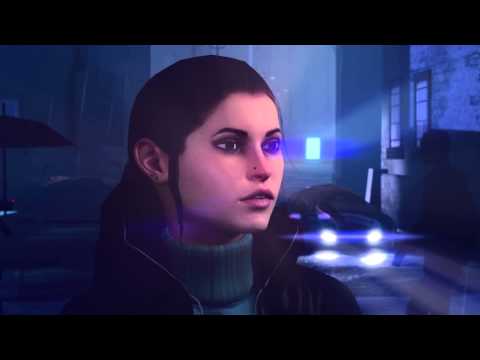 Gettin' it on
As if the trailer didn't get us excited enough, the last week brings us a huge amount of news and feedback as we stretch Dreamfall Chapters' funding even further by treating it to our pledges. The total amount goes up fast in the last few days leading up to the end of the Kickstarter campaign. It's really stimulating!
What also helps is talking about the ways we will be able to explore the game and its environments. We'll be allowed to do so at our own pace. We could go fast, then slow. Fast again, and maybe a bit slower even… In and out of certain sections of the cities. We could use manliness at which ever pace we please…
Accepting each other's flaws
Every relationship – yes, I called it that! – reaches a point at which one of the parties involved starts to notice the other one's flaws. And thus we arrive at the blooper reel. Filled with cusses, mispronunciations and #cannonstroking, it revels in its bad(ass)ness. What defines a good relationship however, is when both parties can look past these little flaws, and maybe even accept them as qualities. And that's what we did!
Getting familiar
One of the best things in a relationship is that when you look at the other person, you don't see a new face anymore, but a familiar one. That person is now part of your life and you can't imagine not knowing him or her. On the 9th of March Christer Sveen shows us the changes he'd made to the Zoë model since the start of the Kickstarter. Many people have complained about Zoë not looking close enough to what she looked like in Dreamfall, but after these adjustments she feels much more familiar. When we finally start up the game in November 2014, we'll be coming home to someone we've known for quite some time.
Anniversary
It's March 10th and we've already been at this for 30 days. One whole month! How time flies…
Seeing as this date also marks the end of the Kickstarter campaign, the people at Red Thread organize a brunch that is broadcasted live on TwitchTV to celebrate. We have an amazing time with lots of laughs, drinks, waffles and other edibles. We look back at the time we spent together in the last month as we await the 'end of an era' and the beginning of a new one.
And then the time is finally there; we're official! The Kickstarter reaches its climax and Dreamfall Chapters has officially been funded with a little over 1,5 million dollars! What an amazing feeling! We raise our voices and glasses and toast to what has been and what will be. For this is indeed the beginning of a new era.
According to Ragnar Tørnquist, we can "expect text updates, video diaries, new art, screenshots, character concepts, voice samples. Expect music, behind-the-scenes photos, outtakes and anecdotes. Expect some surprises along the way"… We're definitely looking forward to a long and fruitful relationship, all the way until (and hopefully past) November 2014, when Dreamfall Chapters finally comes out of Red Thread Games' motherly womb. Or does that phrase contain much innuendo?